Are you a native New Mexican with a bucket list? Maybe you've just been meaning to do these things (tourist-trappy though some of them may be) for a while, but haven't gotten around to it. Here's a list of 20 once-in-a-lifetime things do to in New Mexico.
20. Hike the La Luz Trail
via flikr.com/photos/thomaspix
Trail 137 begins at the base of the Sandia Mountains and stretches to either Sandia Peak or the Tram. The hike is strenuous, but the views are worth it.
19. Attend Fiestas de Santa Fe and burn your gloom with Zozobra
via flikr.com/photos/nicolicreer
Every year in the Autumn, usually on the second week of September, an effigy is built of Old Man Gloom. Zozobra means "anxiety," and you burn the effigy and papers you've written the gloom in your life on to get rid of the evil and gloom in your life and your community.
18. Take a hot air balloon ride
via flikr.com/photos/chrisjortiz
As New Mexico's Unofficial State Sport, taking a ride in a balloon is a no-brainer for this list. Get up before the crack of dawn, help to get the balloon ready, step into the gondola, and off you'll go.
17. Visit Tent Rocks or other beautiful natural formations
via flikr.com/photos/mypubliclands
40 miles outside of Santa Fe, near Cochiti Lake, the Tent Rocks National Monument stands. The unique pointed formation — due to pyroclastic flow and volcanic ash — gives them their name. This national park is one of many natural landmarks unique to New Mexico, despite the outsiders' conception that the state is just flat, barren desert. Ship Rock, pictured above, is another beautiful landmark.
16. Ski Taos
via flikr.com/photos/YoTuT
With some of the most abundant snow in the Southwest, Taos Ski Valley is home to Nordic Cross-country skiing, downhill skiing, and snowboarding. Be wary of avalanches, and enjoy the view.
15. Visit Pie Town, NM
via flikr.com/photos/KurtClark
The photo above is from 1940, but Pie Town is still alive and well. The second Saturday of every September is host to the Annual Pie Festival. Enjoy a pie baking contest, a pie-eating contest, and Horned Toad races.
14. Tour Route 66
via flikr.com/photos/puroticorico
Route 66 starts in Chicago and goes through New Mexico on its way to Santa Monica. Many of the old attractions still stand by the road, though more close each year. On the corner of Route 66 and First Street in Tucumcari, New Mexico, there's a Texaco Station that is the only service station to have operated continuously through the Route 66 era to the present. In addition, because of a change in alignment of Route 66 in 1937, there is an intersection where Route 66 crosses itself at Central Avenue and 4th Street in downtown Albuquerque, New Mexico. Here, you can stand on the corner of Route 66 and Route 66 (via legendsofamerica.com).
13. Be cast as a film extra
via flikr.com/photos/USDAgov
As the film industry booms in New Mexico, the likelihood of walking onto a soundstage increases daily. Films like The Lone Ranger (pictured above), 3:10 to Yuma, Sweetwater, and many more have been filmed, and the filming continues every day. Keep an ear to the ground for open casting calls, or sign up for a mailing list and have your 15 minutes of fame.
12. Stargaze
via flikr.com/photos/jurvetson
New Mexico has its share of larger cities, but the light pollution is drastically reduced from many other places around the country. Look up, even in the middle of Albuquerque on a Friday night, and you'll be able to see hundreds of stars. Get farther out into the desert and the milky way will open up before your eyes.
11. Watch the moon rise over White Sands
via flikr.com/photos/snowpeak
Your timing will have to be right, because the park closes 1 hour after sunset, but if you're lucky, the experience is worth the careful planning.
10. Visit the Candy Lady
via flikr.com/photos/stevendepolo
The rest of the world found out about her when she made blue rock candy that looked like the Sky Blue meth that Walter White sold, but she's been an Albuquerque staple for years. Though she's in the middle of a possible location change, she plans to be around for many years to come, according to her facebook page and thecandylady.com.
9. Brave the Taos Box whitewater rapids
via flikr.com/photos/bdearth
With over 60 rapids, 13 of which are rated at class 3 or higher (grade 3 means rapids with moderate, irregular waves which may be difficult to avoid and which can swamp an open canoe), the Taos box is the result of melting snow from the winter, and is good for the thrill-seeker in you.
8. Attend the Gathering of Nations
via gatheringofnations.com
The Gathering of Nations is a chance for all people (Indian and Non-Indian) to see the colorful dancing and hear beautiful songs. Over 3,000 indigenous/Native American/Indian dancers and singers representing more than 500 tribes from Canada and the United States come to the Gathering of Nations PowWow annually to participate socially and competitively.
7. Visit Loretto Chapel in Santa Fe
via flikr.com/photos/mhowry
The Loretto chapel is home to a mind-boggling spiral staircase made of a now-extinct species of wood, with no central support and no glue or nails. Built in 1870 by the Sisters of Loretto, it is now a private museum open for the preservation of the "Miraculous Staircase" and the chapel itself. (lorettochapel.com)
6. Stand at the Four Corners
via imgur.com
The Four Corners Monument is the only place in the United States where four states meet at one point. Take I-65 North of Shiprock, and after crossing into Arizona briefly, you'll be there.
5. See the bats fly out of Carlsbad Caverns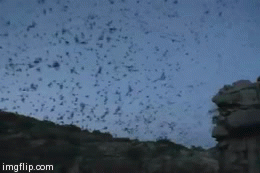 youtube.com/watch?v=yLufIO5fZ6o
In the summer, hundreds of thousands of bats can be seen leaving the caverns at sunset. If you are more of a morning person, you can partake in the Bat Breakfast and watch the bats on their return flight.
4. Attend a UNM vs NMSU game
via nmstatesports.com
A friendly rivalry between the two largest colleges in the state, NMSU and UNM compete every year. Go and enjoy the festivities, no matter the sport. You're sure to see the fur fly.
3. Visit Los Alamos, home of the Manhattan Project
via flikr.com/photos/hatwoman
The city that hosted "Project Y" is open to the public again (naturally, after over 50 years). You can visit the Los Alamos history museum to learn more about the Manhattan project and how it came to be housed in the Land of Enchantment.
2. Check out the International UFO Museum and Research Center in Roswell
via flikr.com/photos/dharmabum1964
Roswell takes their aliens very seriously. The streetlights are aliens, most restaurants are alien-themed, and the seal of the city has a green, bug-eyed alien in it. Keep an eye out for weather balloons while you're there.
1. Visit the chile capital of the world
via flikr.com/photos/9575673@N08
Whether you're visiting during the Hatch Chile Festival or just going down to see the mecca of the New Mexican favorite, you can't go wrong in Hatch. Roll down your windows when you pass roasting chile and indulge all of your senses, and send some chile to your friends far away.